Towing Company Hoists Flag at 2nd Annual Ride for First Responders
Interstate Towing Company was proud to hoist the flag at the second annual Blue Line Unlimited 2nd Annual Ride for First Responders Motorcycle Ride, Car Show and Rib Burn Off! Blue Line Unlimited is an NGO that has been providing assistance to first responders and their families since 2016. This assistance is in the form of benefits, training, equipment, and education. They've raised over $165,000 for first responders since their inception.
Hundreds of motorcycle drivers attended the event at the Geauga County Fairgrounds in support of first responders and military personnel. Riders from Medina County, Portage County, Cuyahoga County, Ashtabula County, Lake County, Geauga County, and Summit County all arrived at the fairground where live music and delicious food was waiting for them!
Aside from everyone's favorite towing company, there were plenty of local vendors at the fairgrounds selling food and drinks! As a towing company, the only time we usually see a motorcycle is when it's on the back of our flatbed! It was incredible to see so many beautiful bikes in one location.
When you work for a towing company, you're often working side-by-side with police and firefighters. We've formed strong partnerships with local PD and were happy to support them on this important day. First responders and their families make a lot of sacrifices to serve their communities and Interstate Towing is proud to give back in any way we can.
Our team had a great time at the event and we cannot wait to participate again next year! Were you at the Ride for First Responders? We'd love to see your pictures!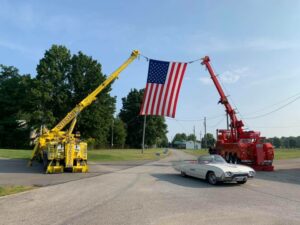 If you would like to learn more about Blue Line Unlimited and the incredible work they do for first responders, visit their website at www.bluelineunlimited.com . You can also follow them on Facebook to keep up with the daily updates: https://www.facebook.com/BlueLineUnlimited/