Investing in New Heavy Tow Equipment!
Getting new heavy tow equipment is always an exciting time for a towing company. Interstate Towing & Transport invested in an NRC CSR85. NRC Industries describes the 85-ton rotator as "the perfect balance between power and size".
This beautiful new rotator will play a major role in our industrial rigging division. It's compact design will allow it to easily fit into factories and other buildings. While cranes are powerful, they need a lot of space to maneuver. Interstate prefers to use rotators in low clearance areas as they can easily maneuver in smaller spaces without compromising on lifting power.
The CSR85 has a 60-ton safe lifting capacity (25% safety factor) and a v-shaped 3-stage telescopic boom. Our tow truck operators have received the necessary training to get to know their new piece of heavy tow equipment!
This addition to our heavy towing fleet will allow us to serve more customers, ensuring that we always have a truck available for the job. Having one 85-ton rotator was incredible. Adding a second one to the fleet is a dream come true!
We cannot wait to serve our loyal customers with our new rotator. This addition to our fleet would not be possible without your loyalty. We've built incredible partnerships within the local community over the past 44 years and cannot wait to see what the next 44 years have in store for us!
Details of Investing in New Heavy Tow Equipment!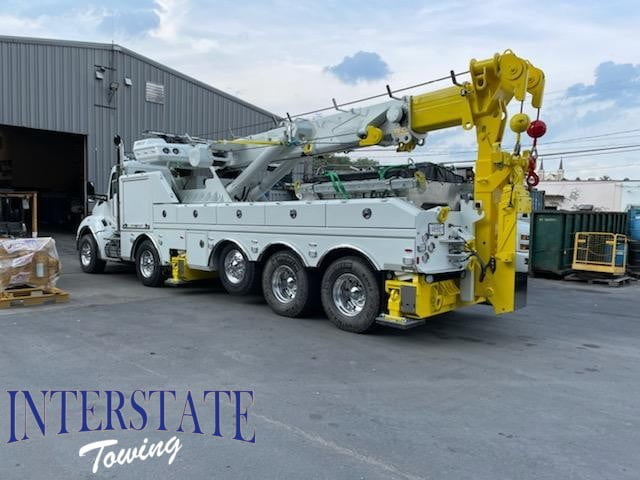 Interstate Towing & Transport purchased new heavy tow equipment. The new heavy tow equipment will be a welcome addition to the heavy duty towing team! By investing in heavy tow equipment, Interstate Towing is able to continue offering the best customer service to their loyal customers.
Specification as per manufacturer (NRC):
85-Ton hydraulic sliding-rotating wrecker boom
60-Ton safe lifting capacity ( with 25% safety factor)
360° Continuous Rotation
Low profile 3-stage front and rear outriggers
V-shaped 3-stage telescopic boom
Boom structural rating fully retracted: 170,000 lbs (85t SAE J2512)
Reach past tailgate : 467″
Maximum Boom working height: 663″
Boom range of elevation: 0-70°
360° sheave head
Dual 60,000 lbs 2-speed planetary winches