Recovery and Towing Services
24/7 Recovery and Towing Services Near Me
Interstate offers 24/7 emergency towing and recovery services for the Bedford Heights, Twinsburg, Chardon, and Norwalk areas. Our heavy duty tow truck operators are stationed in strategic positions throughout our service area in order to provide you with quick towing response times regardless of the time of day. Needing a recovery and towing service often means that your day has taken a turn for the worse. Let's get it back on track as quickly as possible. Give our knowledgeable dispatch team a call at 330-425-4111 and they'll get a professional towing team by your side in minutes.
Rollovers
Crane Services
Leaning Trailers
Sinking Trails
50 Ton Rotator Services
Off-Road Recovery
Cargo Load Shifts, Load Swaps and Transfers
Interstate provides Cargo Load Shifts, Load Swaps, and Transfers to the Bedford Heights, Twinsburg, Chardon, and Norwalk areas. We understand that sometimes things don't always go to plan. If your load suddenly shifts while you're driving down the interstate, give us a call immediately at 330-425-4111. We will dispatch a professionally trained team to your location immediately. Our know-how combined with our state-of-the-art equipment will get the job done right in a safe and timely manner. From load swaps between trailers (we've got spares if you don't!) to picking up heavy cargo, Interstate is the one to call.
Learn more about our Cargo Load Shifts, Load Swaps, and Transfers.
Heavy Duty Towing Services Near Me
No job is too big for Interstate's Heavy Duty Towing team. Included in their 24/7 heavy duty towing services are the following:
Box Truck Towing
Semi Truck Towing
RV Towing
Motorhome Towing
Bus Towing
Construction Equipment
Farming Equipment
Reefers
Enclosed Trailers
And much more!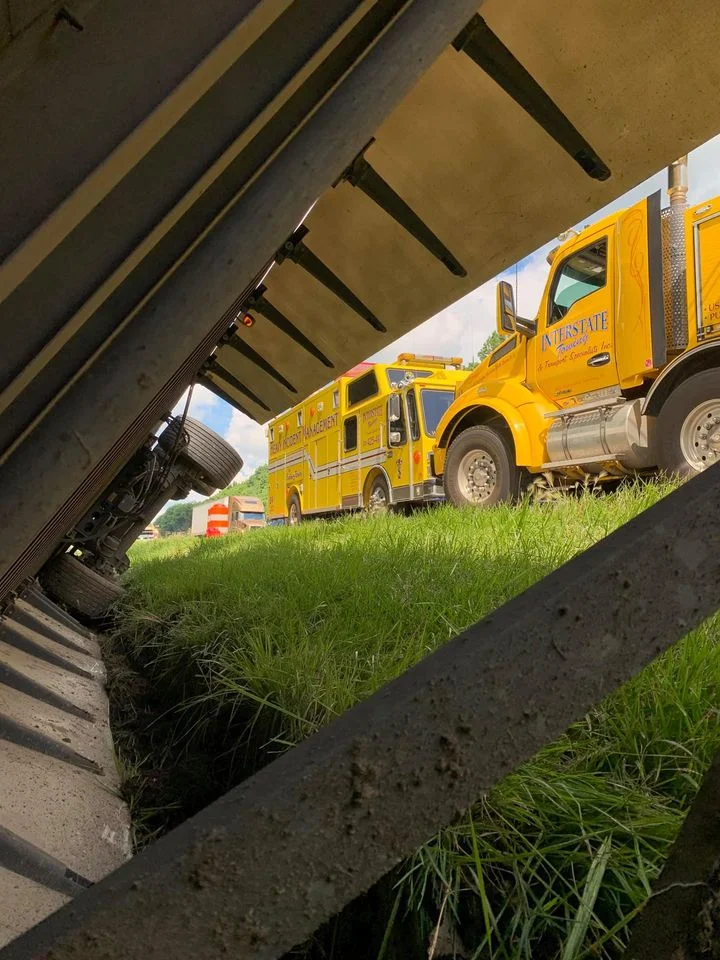 Leaning and Sinking Trailers
Need help with your leaning or sinking trailer? Interstate Towing and Transport Specialist is the one to call when you need to get back on the road as quickly and as safely as possible. Our team of heavy duty service professionals is on call 24 hours a day, 7 days a week, 365 days a year. When we say 24-hour service, we mean 24-hour service. Try it, give us a call right now at 330-425-4111 to speak to the Cleveland truck services specialist now!
Heavy Duty Winching Services in Cleveland
When you're looking for a heavy duty winching service provider, you're looking for the best team out there. Interstate has been in the heavy duty towing industry since 1977. We invest in our team's training and in our fleet to be able to provide our loyal customers with the best specialized heavy duty services, including heavy duty, winching.
We're the company that takes on the jobs others are too scared to. Why? Because we know we can get any heavy duty job done! From farm equipment sinking into a small swampy road to overturned trucks loaded with 50,000 lb of cargo, we've seen it all! You never know when you'll need our services to make sure to save our phone number 330-425-4111 and call Interstate for the best heavy duty winching services near you!
Learn more about our Heavy Duty Winching & Recovery services in Cleveland.
Heavy Equipment and Machine Recovery
Transporting your heavy equipment and machines between construction sites has never been easier. When you work with Interstate, you're gaining a reliable partner for your business. We will take care of all of the complicated logistics that come with transporting heavy equipment. The Interstate team understands that while the machinery and equipment may be sturdy, they can still break! We take every precaution to ensure that your equipment incurs no damage during the transportation process. Call our Heavy Equipment and Machine Recovery team at 330-425-4111 and expand your workforce in seconds!
50 ton lifting capacity
Boom Lifts
Trailers
Excavators
Flat Bed Trucks
Skidsteers
Fork Lifts
Bucket Trucks
Farming Equipment
Tractors
HVAC
Steel Coils
Twinsburg, OH, 44087
Macedonia, OH, 44056
Solon, OH, 44139
Hudson, OH, 44236
Hudson, OH, 44237
Aurora, OH, 44202
Northfield, OH, 44067
Bedford, OH, 44146
Streetsboro, OH, 44241
Peninsula, OH, 44264
Maple Heights, OH, 44137
Chagrin Falls, OH, 44023
Cleveland, OH, 44128
Stow, OH, 44224
Cuyahoga Falls, OH, 44223
Cuyahoga Falls, OH, 44221
Cuyahoga Falls, OH, 44222
Mantua, OH, 44255
Richfield, OH, 44286
Independence, OH, 44131
Kent, OH, 44242
Kent, OH, 44243
Kent, OH, 44240
Novelty, OH, 44072
Novelty, OH, 44073
Broadview Heights, OH, 44147
Munroe Falls, OH, 44262
Brady Lake, OH, 44211
Akron, OH, 44313
Akron, OH, 44310
Akron, OH, 44333
Akron, OH, 44302
Akron, OH, 44303
Akron, OH, 44304
Akron, OH, 44315
Akron, OH, 44309
Akron, OH, 44319
Akron, OH, 44372
Akron, OH, 44328
Akron, OH, 44316
Akron, OH, 44326
Akron, OH, 44398
Akron, OH, 44317
Akron, OH, 44396
Akron, OH, 44308
Akron, OH, 44311
Akron, OH, 44320
Akron, OH, 44325
Akron, OH, 44305
Akron, OH, 44306
Akron, OH, 44307
Akron, OH, 44321
Akron, OH, 44314
Akron, OH, 44301
Akron, OH, 44312
Bath, OH, 44210
Newbury, OH, 44065
Cleveland, OH, 44125
Cleveland, OH, 44124
Cleveland, OH, 44120
Cleveland, OH, 44105
Cleveland, OH, 44118
Cleveland, OH, 44134
Cleveland, OH, 44104
Cleveland, OH, 44127
Cleveland, OH, 44121
Cleveland, OH, 44106
Cleveland, OH, 44109
Cleveland, OH, 44129
Cleveland, OH, 44112
Cleveland, OH, 44115
Cleveland, OH, 44143
Cleveland, OH, 44113
Cleveland, OH, 44103
Cleveland, OH, 44144
Cleveland, OH, 44108
Cleveland, OH, 44199
Cleveland, OH, 44188
Cleveland, OH, 44192
Cleveland, OH, 44190
Cleveland, OH, 44197
Cleveland, OH, 44195
Cleveland, OH, 44194
Cleveland, OH, 44193
Cleveland, OH, 44191
Cleveland, OH, 44198
Cleveland, OH, 44181
Cleveland, OH, 44101
Cleveland, OH, 44110
Cleveland, OH, 44114
Cleveland, OH, 44130
Cleveland, OH, 44119
Cleveland, OH, 44111
Cleveland, OH, 44135
Cleveland, OH, 44102
Cleveland, OH, 44126
Hiram, OH, 44234
Tallmadge, OH, 44278
Gates Mills, OH, 4404
North Royalton, OH, 44133
Hinckley, OH, 44233
Chesterland, OH, 44026
Fairlawn, OH, 44334
Ravenna, OH, 44266
Burton, OH, 44021
Euclid, OH, 44117
Euclid, OH, 44123
Euclid, OH, 44132
Garrettsville, OH, 44231
Strongsville, OH, 44136
Strongsville, OH, 44149
Wickliffe, OH, 44092
Windham, OH, 44288
Parkman, OH, 44080
Lakemore, OH, 44250
Mogadore, OH, 44260
Brunswick, OH, 44212
Rootstown, OH, 44272
Brookpark, OH, 44142
Sharon Center, OH, 44274
Chardon, OH, 44024
Randolph, OH, 44265
Wayland, OH, 44285
Lakewood, OH, 44106
Berea, OH, 44017
Barberton, OH, 44203
Willoughby, OH, 44094
East Claridon, OH, 44033
Eastlake, OH, 44097
Willoughby, OH, 44096
Middlefield, OH, 44062
Eastlake, OH, 44095
Rocky River, OH, 44116
Wadsworth, OH, 44281
Wadsworth, OH, 44282
Atwater, OH, 44201
West Farmington, OH, 44491
Uniontown, OH, 44685
Mentor, OH, 44061
Mentor, OH, 44060
Hartville, OH, 44632
Huntsburg, OH, 44046
Medina, OH, 44256
Southington, OH, 44470
Medina, OH, 44258
Valley City, OH, 44280
Newton Falls, OH, 44444
Olmsted Falls, OH, 44138
North Olmsted, OH, 44070
Columbia Station, OH, 44028
Green, OH, 44232
Clinton, OH, 4416
Greentown, OH, 44630
Diamond, OH, 44412
Westlake, OH, 44145
Mesopotamia, OH, 44439
Limaville, OH, 44460
Doylestown, OH, 44230
Bay Village, OH, 44140
Leavittsburg, OH, 44430
Deerfield, OH, 44411
Montville, OH, 44064
Lake Milton, OH, 44429
North Canton, OH, 44720
Windsor, OH, 44099
Rittman, OH, 44270
Chippewa Lake, OH, 44215
Canton, OH, 44721