Cleveland's Leading Heavy Equipment Haulers: Heavy Equipment Moving Service
Cleveland's Leading Heavy Equipment Haulers: Heavy Equipment Moving Service
Interstate Towing & Transport is Cleveland's leading heavy equipment hauling company. Factories, construction companies, and various other businesses entrust us with offering reliable heavy machinery transport. You can leave the job to us knowing that your heavy equipment is in great care with our highly trained and dedicated heavy machinery and equipment moving team.
For more information, reach out to our heavy equipment hauling team at 330-425-4111.
Heavy Machinery Moving & Equipment Relocation Services
When you have a need for heavy machinery moving and equipment relocation services, it can seem like an impossible feat. Between the daily operations and management of employees, you may be wondering how to accomplish moving your heavy machinery and equipment for a successful relocation.
Leave the hard work to Interstate Towing & Transport. We understand that bulky equipment and heavy machinery moving requires great care and precision. With us on your team, you can have certainty that your heavy equipment is in good hands.
Our experienced crew has moved everything from heavy duty construction equipment to Conex boxes and items of all sizes in between. We always strive to complete heavy machinery moving and equipment relocation safely and efficiently.
Professional Heavy Machinery Movers
Some heavy machinery movers take the approach that they only need to get your heavy equipment from point A to point B. Interstate Towing & Transport knows that so much more goes into this process though.
When you contact us for heavy machinery moving and hauling, we ask the right questions to thoroughly assess the job. This means that when we arrive to provide service, the proper vehicle, equipment, and personnel are sent to complete the project.
Safety is paramount for us – not just for our crew and your staff, but also for your heavy machinery. With a fleet of rollbacks, tandem rollbacks, road tractors, rotators, reach trucks, heavy wreckers, and more, we have everything needed to safely move heavy equipment of all sizes. Rely on us for professional heavy machinery moving at reasonable rates.
How We Provide Safe Precast Concrete Moving Services
Precast concrete is a highly functional construction material created with a mold and used to make reusable concrete formations. However, precast concrete moving services can prove logistically difficult without the proper support.
Whether you need transportation from the plant to the yard, the yard to the truck, the truck to the site, or all of the above, Interstate Towing and Transport can assist. We follow a safe and proven method to offer our clients precast concrete moving services. Our team gives attention to the following aspects:
Daily inspection of all ropes, chains, and slings.
Selecting the proper rigging – ropes, chains, slings, and inserts.
Slings should be strong enough to carry the load.
Proper placement of inserts to withstand tension, loading, bending, and shearing forces.
Equal distribution of the pressure on the load.
Slow, controlled movements of the load.
These considerations are maintained throughout each portion of the precast concrete moving services process.
Plant to Yard
During this phase, our team will carefully assess the concrete strength development to minimize the possibility of tensile and flexural stresses which can create spalling or cracking.
Through the use of embedded lifters, we determine the capacity of lifting inserts, adding additional lifting inserts at pick points to reduce stress as needed. Our precast moving team always uses the correct procedures and practices for which the precast product is reinforced. We also give thorough attention to dunnage selection and positioning to conserve product integrity.
Yard to Truck
For transport, the precast concrete products will need to be placed on a truck or trailer. We utilize an embedded lifting mechanism and specific supporting hardware, cables, and hooks to move precast items from the yard to the truck. Each of our precast concrete moving specialists understands the need for the use of correct lifting inserts, sizing of lift holes, and maintenance of lift cables.
Truck to Final Destination
Transport of the precast products is a critical phase in the process. Our drivers are familiar with the proper load tie down requirements, as well as the inner workings of concrete loads and handling. This is essential as even the most tightly secured precast concrete items will shift during its journey. Guards are used to combat the stress of the trip.
How Interstate Towing Follows Heavy Equipment & Machine Moving Safety Protocols
Your heavy equipment and machine moving project's success depends on the safety of all involved. At Interstate Towing & Transport, we do not take safety lightly. In fact, it is our primary concern when providing heavy equipment and machine moving services.
We believe that safety requires thorough education and knowledge. For this reason, each of our staff is equipment operator certified and receives continuous training in the latest industry practices. All of our crane operators are certified by the National Commission for the Certification of Crane Operators (NCCCO). Our crew is trained to evaluate boom height, limited space, and surrounding objects when maneuvering in tight quarters.
Beyond our highly trained personnel, we place a heavy emphasis on the maintenance of all equipment used in the heavy machinery moving process. We frequently inspect all components and attachments to ensure each piece of equipment we use is up to our strict standards.
Our safety protocols exist to ensure the well-being of our team and yours, as well as your equipment. With a well-maintained fleet, state of the art technology, and an extensively trained team, Interstate Towing & Transport is Cleveland's top choice for these jobs.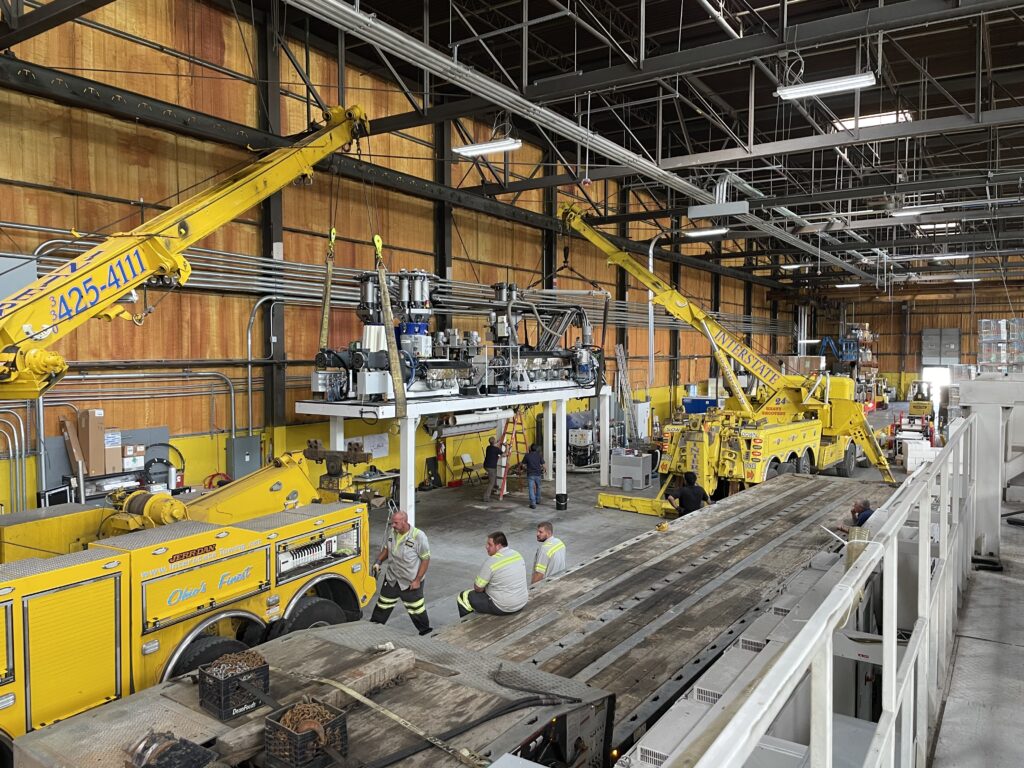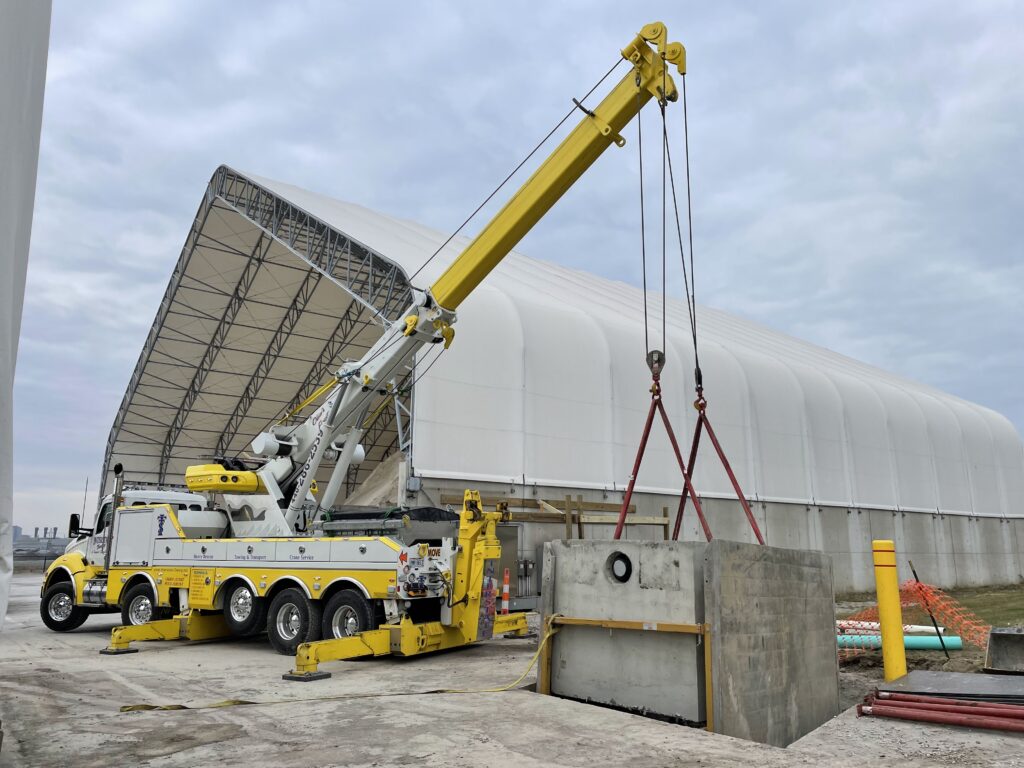 Industrial Rigging and Heavy Lifting Services
Handling heavy machinery generates many challenging situations, as does transporting this heavy equipment. The best solution for these needs are industrial rigging and heavy lifting services.
However, not all industrial rigging companies are equipped for the task, which means you will want to partner with one that utilizes proper heavy lifting equipment and resources.
Interstate Towing & Transport has a skilled team of experienced industrial riggers that will care for your valuable equipment from start to finish. We thrive on identifying simple solutions for complex industrial rigging projects with our heavy lifting services.
Eliminate the hassle and guesswork of industrial rigging and heavy lifting jobs. Allow Interstate Towing & Transport to assist you in maneuvering, lifting, transporting, and placing your machinery and equipment. We get the job done on time and within the specified budget.
Heavy Equipment Moving Service Area
When you have a complex heavy equipment moving job, trust Interstate Towing & Transport. We are proud to have an extensive heavy equipment moving service area that includes Cleveland, Bedford Heights, Twinsburg, Norwalk, Chardon, and surrounding northern Ohio areas.
For a heavy equipment moving company with the expertise, equipment, and experience for your project, we are your reliable option. Whether the project is large or small, we can help you bring it to fruition. Our experts prioritize safety and efficiency.