RV Towing in Twinsburg, OH
Interstate Towing is proud to provide RV towing services to Norwalk, Twinsburg, Bedford Heights, Chardon, and Geneva. Before you can begin an epic on-the-road adventure, you need to have a reliable RV towing service on speed dial.
Our RV towing and roadside assistance team have undergone specialized training in order to safely work with all makes and models of motorhomes. We have the equipment and the expertise to get you back on the road in no time. You'll sleep better at night knowing that Interstate Towing is only a phone call away.
Contact us today to speak to a member of our Ohio RV Towing & Roadside Assistance team.
RV Towing Counties Served
Interstate Towing provides 24 hour RV Towing services to the following counties: Cuyahoga, Geauga, Huron, Lake, Portage, Summit, Ashtabula.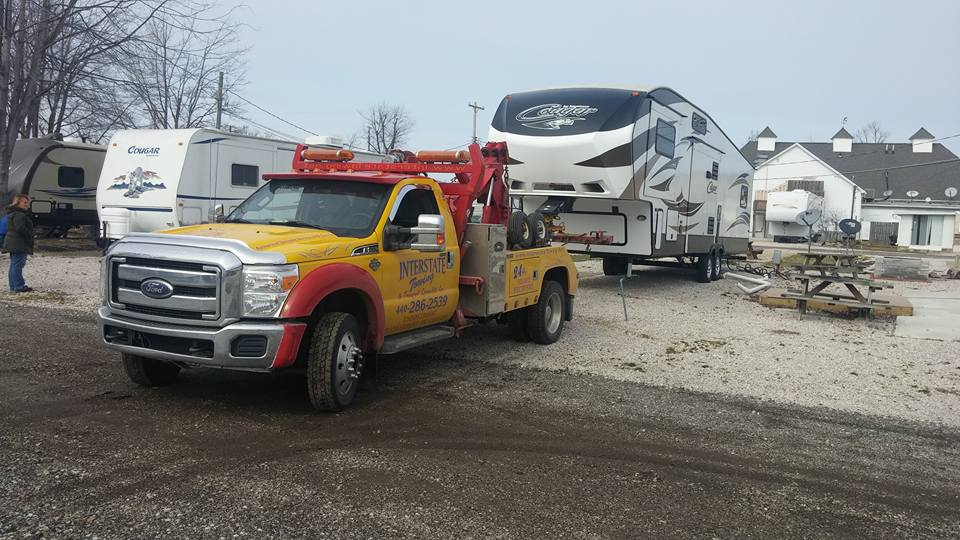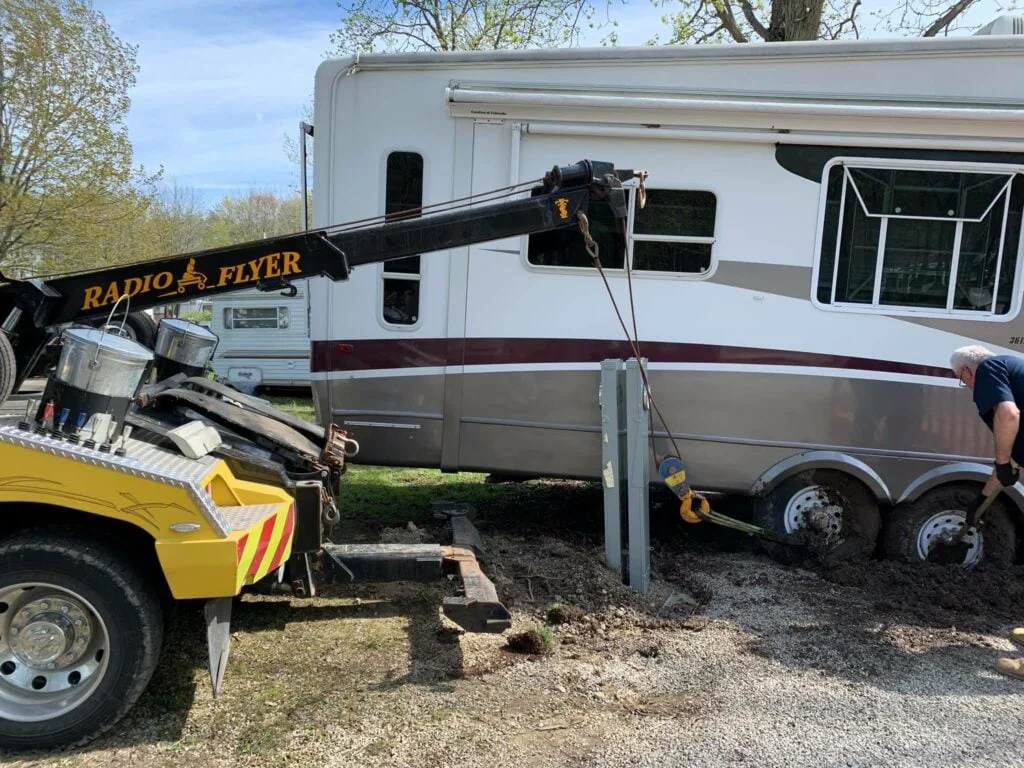 Buying an RV? Here Are Some Terms All RV Owners Need to Know
Cargo Carrying Capacity (CCC)
As the name implies, your RV's Cargo Carrying Capacity refers to the maximum amount of weight for cargo (additional items) on your RV.
Dry Weight
The dry weight of your RV is the weight as it comes off the assembly line. Not included in the dry weight is any liquids, passengers, or cargo.
Gross Axle Weight Rating (GAWR)
The total weight allowed on each individual axle.
Gross Combination Weight Rating (GCWR)
The total combined weight rating for the tow vehicle, trailer, fluids, passengers, hitching, and cargo.
RV Parks Near Me
Streetsboro KOA Holiday, 187 OH-303, Streetsboro, OH 44241, United States
Woodside Lake Park, 2486 Frost Rd, Streetsboro, OH 44241, United States
Roundup Lake Campground, 3392 OH-82, Mantua, OH 44255, United States
Silver Springs Campground, 5238 Young Rd, Stow, OH 44224, United States
Countryside Campground, 2687 OH-43, Mogadore, OH 44260, United States
Lake Milton RV Resort, 17829 Mill Rd, Berlin Center, OH 44401, United States
Country Acres Campground, 9850 Minyoung Rd, Ravenna, OH 44266, United States
Kool Lakes Family, 12990 Nelson Ledge Rd, Garrettsville, OH 44231, United States
American Wilderness Campground, 17273 Avon Belden Rd, Grafton, OH 44044, United States
Riverview RV Park, 1270 Vermilion Rd, Vermilion, OH 44089, United States
Willow Lake Park, 2400 Substation Rd, Brunswick, OH 44212, United States
Wa-Hoo Campground and Bar, 5504 Colorado Ave, Sheffield, OH 44054, United States
Pier-Lon Park, 5960 Vandemark Rd, Medina, OH 44256, United States
Maple Lakes Campgrounds, 4275 Blake Rd, Seville, OH 44273, United States
Kenisee Lake RV Campground, 2021 Mill Creek Rd, Jefferson, OH 44047, United States
Homerville KOA, 11450 Crawford Rd, Homerville, OH 44235, United States
Sandusky KOA, 2 E Shoreway Dr, Sandusky, OH 44870, United States
Thompson KOA, 6445 Ledge Rd, Thompson, OH 44086, United States
Schaun Acres Campground, 51390 OH-303, Oberlin, OH 44074, United States
Indian Creek RV Resort, 4710 Lake Rd E, Geneva, OH 44041, United States
Hide-A-Way Lakes Campground, 2034 S Ridge Rd W, Ashtabula, OH 44004, United States
Clay's Park Resort, 12951 Patterson St NW, North Lawrence, OH 44666, United States