Heavy Towing Team Transports 37,000 Pound Generators
Known for their precision and accuracy in heavy towing jobs, Interstate Towing Inc. recently had a chance to display their skills. They received a call from a customer in Highlands Heights, OH, who needed an experienced and reliable heavy towing company for a tricky job.
With multiple locations in the area, the Bedford Heights Interstate Towing team was closest to the customer's location. Departing Bedford Heights base, the heavy towing crew made it to the customer's location within 15 minutes. Once they arrived the team members carefully assessed the situation so that they could come up with the best solution.
The customer needed to move 105" tall generators through a 110" doorway. The crew realized that there was absolutely no room for error, but they felt extremely confident in their expertise. Using a 80-ton rotator, they got straight to work!
The Interstate Towing team expertly moved the 37,000 pound generators through the doorway without error. Once they passed the doorway, the generators were lifted onto awaiting trucks. The job was successfully and flawlessly completed!
Once again, the Interstate Towing team exhibited their professionalism and reliability with heavy towing jobs. Congrats to the whole team on a job well done! Keep up the great work!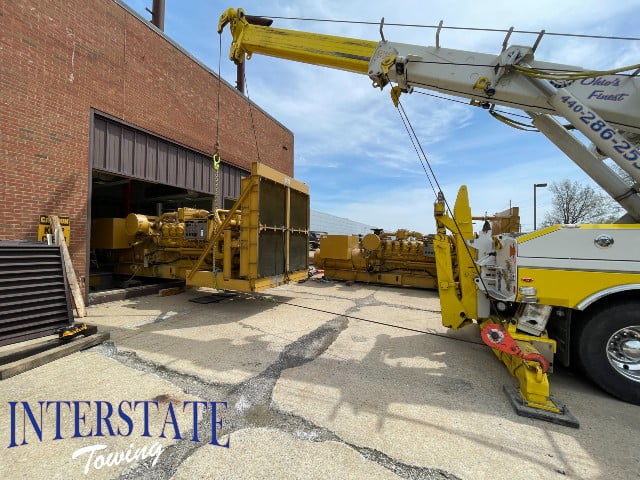 Details of Heavy Towing Team Transports 37,000 Pound Generators
The Interstate Heavy Towing & Transport Specialist team received a call regarding a heavy towing job from a customer in Highlands Heights, OH. The call was from a customer who  needed the heavy towing crew to assess a job in Highlands Heights. 
Interstate Towing has heavy towing teams in Norwalk, Twinsburg, Chardon, Bedford Heights, and Geneva. For this particular heavy towing job, a team from Bedford Heights was chosen as this was closest to the customer's location.
The heavy towing team departed from Interstate Towing & Semi Truck Towing Service, 22151 Aurora Rd, Bedford Heights, OH 44146, United States. The heavy duty towing team took I-480 E for 1 mile before continuing on I-271 N for 6.1 miles. Taking exit 32 from I-271 N, the heavy towing team reached Highland Heights ten minutes later. 
Once the heavy duty towing crew arrived at the scene, they assessed the situation. The Interstate Towing crew members had to move two 105" tall generators and winch them through a 110" doorway. There was no room for error for this heavy towing job. Each 105" tall generator weighed 37,000 pounds. 
To begin the heavy towing job, the team first put dunnage down. They then placed mats down to create a bridge. The bridge was from the platform that they were resting on, to the brick wall that was outside the building.
The HD towing crew used an 80-ton rotator for this job. Once the natural gas motors were accessible, they used two spreader bars to lift the generators. To complete the heavy towing job, the crew then set the generators on to awaiting trucks.