Interstate Towing recently had a unique opportunity to put our heavy equipment moving skills to the test. Our heavy equipment moving crew was tasked with taking apart five large satellite dishes in Akron to prepare them for transport. With ample experience solving difficult heavy equipment moving issues, the task was accomplished in just two days.
The first matter of business in getting these satellites to their destination in Washington state was disassembly. This involved some climbing, as each satellite would be attached to 4-legged bridles for lifting. Each bridle was in turn, connected to an 85-ton heavy duty wrecker and had many points of contact in accordance with top safety protocols. 
From here, each satellite dish was lifted vertically so as not to create any disturbance or damage. Our heavy equipment moving crew carefully controlled the lift process at all times. All of the satellites were rotated and placed on the ground where a contractor disassembled the components to place in overseas shipping containers. The Interstate heavy equipment moving team then lifted the containers for transport.
The first day consisted of removing two of the satellites. The second day saw three satellites disassembled for shipping. This job was a perfect chance to spotlight our diverse skill set for heavy equipment moving solutions.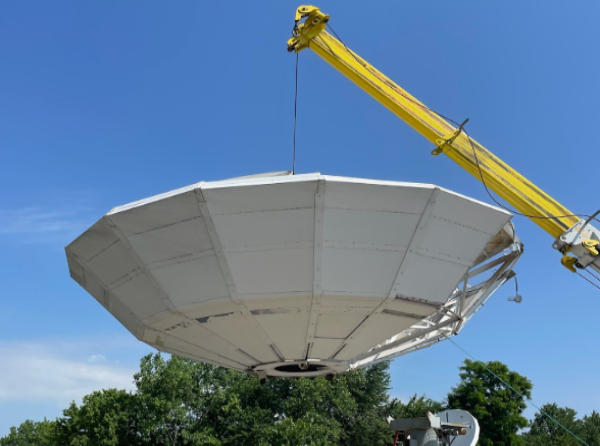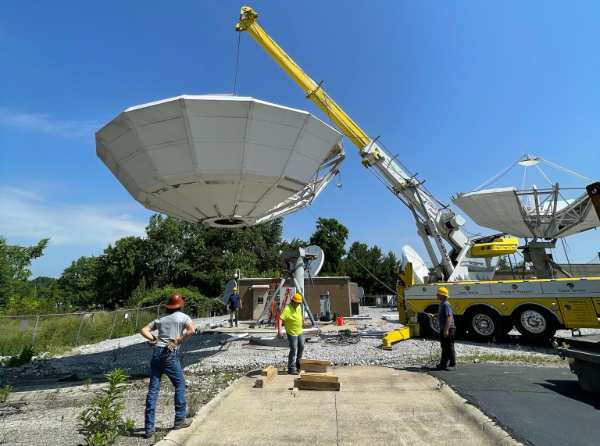 The Details of Akron Heavy Equipment Moving Service Completing Satellite Disassembly
Interstate heavy equipment moving company completed a project that assisted in deconstructing satellites to prepare for a long distance transport from Akron to Washington state. The Akron heavy equipment moving service disassembled five satellites in total – two on the first day and three on the second day.
The heavy equipment moving service accomplished this impressive feat by securing 4-legged bridles to each satellite. These were then connected to one center lifting point on the 85-ton wrecker. The Interstate heavy equipment moving company lifted each satellite vertically so as not to cause damage. Each piece was rotated before being placed on the ground.
From here, a contractor disassembled the satellite further. Interstate heavy equipment moving service then lifted these pieces into large overseas shipping containers, before lifting the containers onto the trucks for transport to Washington.
This is not a typical heavy equipment moving job we receive a call for everyday. As such, this satellite disassembly allowed the heavy equipment moving company to demonstrate their commitment to top safety protocols while also affording us valuable new experience.