Interstate Towing Uses 80 Ton Rotator to Help Geauga County Engineers
Interstate's 80 ton rotator was put to work in Thompson Township. A Geauga County construction team needed assistance laying pipes at one of their projects. Now, why in the world would anyone need an 80 ton rotator to move some pipes? Well, when you find out that the pipes in question are massive concrete ones weighing up to 12,000 lb, it becomes a lot more clear!
The pipes were being laid in an area with several electric lines running overhead. It's situations like this where you want to lift something heavy in a low clearance area that rotators really shine. Rotators are capable of lifting and moving objects in the same way as a crane would.
While cranes need a large area to set their platform up, rotators are able to do the same job without taking up as much space! Interstate's 80 ton rotator is actually used for rigging jobs where we drive our rotator into a building!
The 80 ton rotator operator made easy work of lifting the 12,000 lb pipes. They lifted them off the ground and slowly moved them over to their new permanent homes!
Fantastic work out there team! You did an amazing job!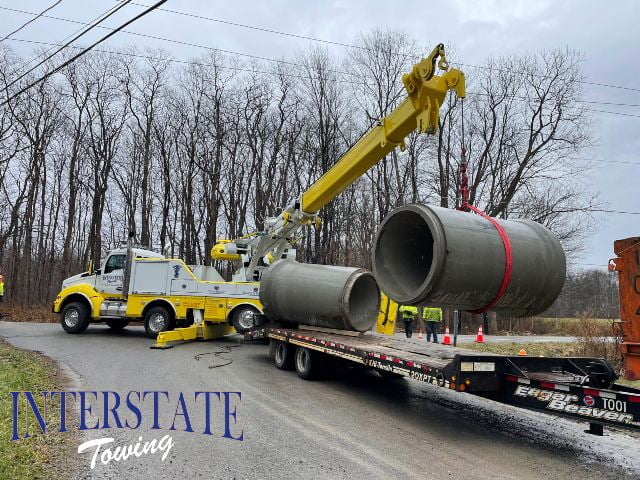 Details of Interstate Towing Uses 80 Ton Rotator to Help Geauga County Engineers
Interstate Towing sent out their 80 ton rotator to a construction site in Thompson Township. A rotator operator was dispatched from Interstate Towing's headquarters at Interstate Towing & Transport Specialists, Inc., 12577 Gar Hwy, Chardon, OH 44024, United States.
Their Chardon office was only nine miles from Thompson Township so the 80 ton rotator was at the customer's location in less than 15 minutes! Once on site, the rotator operator discussed the logistics of the job with the construction crew.
The construction crew needed assistance in lifting 12,000 lb concrete pipes which were going to be placed underground. Not only would the 80 ton rotator need to lift the pipes, it would also need to use it's reach to move them to the designated location.
Once the rotator operator knew what was expected of him, he got straight to work. Thankfully, the concrete pipes already had built in lift points. This meant that the rotator operator could hook onto the lift points directly without needing to rig up any straps. This also helped decrease the time the rotator was blocking the road.
Once all the pipes were in place, the rotator operator made his way back to Interstate Towing where he cleaned his equipment so it would be ready for the next job!